Our CEO will be presenting at the 13th Ed Leadership International Roundtable, the biggest international education conference in India with participants from 40+ countries. See Brochure: https://edleader.in/13thEdLeaderF/mobile/index.html
He will be speaking on Power of Change: Education and Skill in Roundtable 9 which is on Saturday, 23 January 2021 from 8:30 to 11:00 IST. The global crisis has compelled the education systems across the world to set new standards and establish a new order even as we celebrate on the 24th of January UNESCO's International Day of Education. We would like to invite you to register now for free on www.getilearn.org
Video: https://www.youtube.com/watch?v=s3ix4Lej1z4&feature=youtu.be
This is to inform all our well wishers that the Webinar Panel Discussion on "Post Covid-19 Education Landscape" is postponed due to concerns raised by our participants over Internet disruptions caused by cyclone Amphan. The same panel discussion will now happen on Tuesday 26/5/2020 from 9.30AM -11.30AM.
Those registered participants need not register again and we will still try to accommodate new registration if more.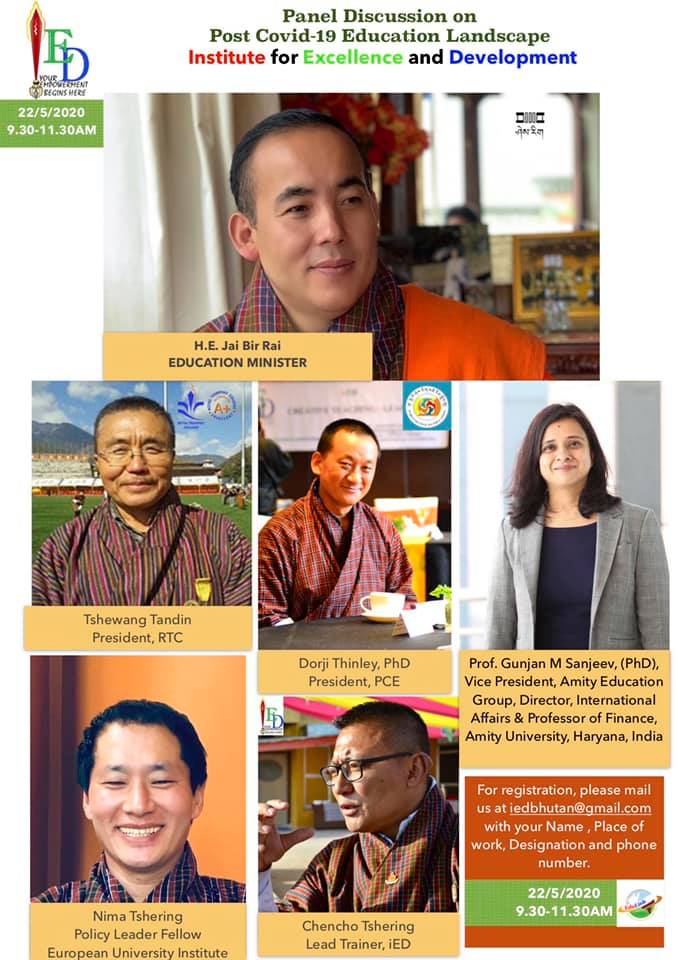 Panelists
His Excellency Lyonpo JB Rai, Minister of Education, Bhutan
Mr. Tshewang Tandin, President, Royal Thimphu College
Dr. Dorji Thinley, President, Paro College of Education
Dr. Gunjan M. Sanjeev, Vice President, Amity Education Group
Mr. Nima Tshering, Policy Leader Fellow, European University Institute
Mr. Chencho Tshering, Lead Trainer, Institute for Excellence and Development
For registration, please mail us at iedbhutan@gmail.com with your name, place of work, designation and phone number.
Date: 22/5/2020
Time: 9.30AM -11.30AM